We translate deep human understanding and sophisticated data analytics into your business success
Uncovering Fresh Insights for Your Business
LRW's approach to Brand Tracking incorporates the tools and analytics needed to maximize campaign success through a holistic set of insights.
We can help you look beyond what has happened, getting you to the why, how and what's next. This is why some of the largest brands in the world choose LRW for their tracking programs, and why so many clients have kept their trackers with us for more than a decade, even in a period of rapid change.
Understanding Human Behavior
LRW's Behavioral Science Institute provides a holistic understanding of human cognition, emotion, motivation and behavior, so you can better anticipate and serve your customers' needs. Our team of scientists draws from their backgrounds in psychology, sociology and behavioral economics to gain deeper insights into the emotional and less conscious drivers of behavior. LRW's scalable tools and techniques help our clients build stronger products, more persuasive communications, and amazing customer experiences.
Marketing and Data Science
Growing Businesses with Sophisticated Analytics
At LRW, we LOVE data. Our marketing and data science capabilities go well beyond spreadsheets and surveys. A team of methodologists, consultants and data scientists works each day with a vast analytical toolkit to harness relevant data and build sophisticated models that turn insight into impact. More importantly, we use these insights to provide smart and thoughtful advice that our clients can easily digest. This is what we do, and we do it better than anyone else in the industry.
Human Centered and Tech Enabled
Your customers are more than just customers. They're friends, neighbors, fans, followers, and advocates. They have a voice. And they want to be heard.
LRW helps clients build online communities to better connect and communicate with their customers. We manage each community to address the client's specific business and research needs. Our online moderators take a human-centered approach to develop empathetic relationships with your customers so they feel comfortable to share their honest opinions, attitudes and values.
Whether you're introducing a new product, or tweaking your marketing messages, or you just want a better understanding of how your products are used, these communities can provide valuable feedback at speed and scale.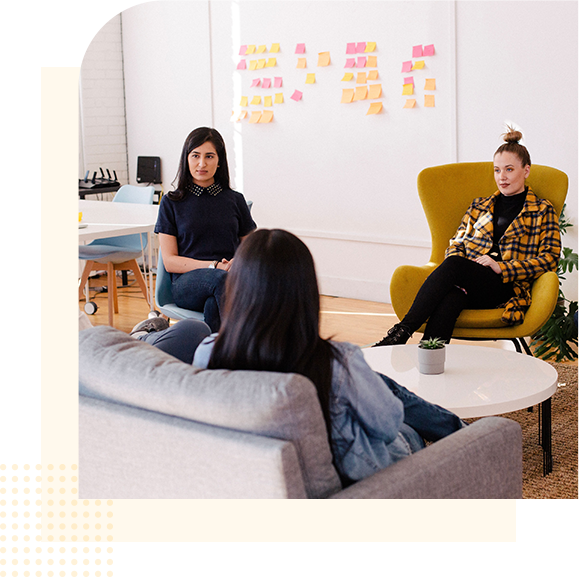 Qualitative Methodologies
Exploring the Humanity of Data
Data is so much more than numbers or words. Data can be ideas, opinions, beliefs, emotions, and experiences. Data is human.
At LRW we are consumer psychologists with keen ears and kind hearts. We engage with people in the context of their own lives and sometimes in virtual, simulated or augmented realities. We ask, we listen, we observe, all in search of human truths that have implications for our clients. Using ethnographic approaches, group expeditions, and games, LRW collects qualitative data to discover new trends, contextualize outside research, and help our clients make better decisions.
Leveraging Data from the Digital Space
It's one thing to know how customers interact with your brand. But understanding how they interact in the larger digital space can unlock fresh ideas to grow and refine your business. LRW uses smart (and ethical) online research strategies to help clients identify their ideal customers and better serve their needs.
LRW's Digital Analytics practice focuses on three pillars:
Media Analytics – Guide cross-channel marketing efforts
Digital Behavior Analytics – Uncover insights into customer journeys to reveal new and engaging ways to connect with high-opportunity groups
Audience Analytics – Bring real value to clients' digital marketing teams with robust profiling and activation tools
Social Media Analytics and Deep Listening
Keeping an Ear to the Digital Underground
Every business wants to ride the wave of insight from social media. But how do you catch that wave before your competitors can surf it to shore?
LRW implements an "Online Anthropology" approach to social media monitoring and analytics. Our team monitors smaller online spaces where the seeds of social ideas sprout. Deep listening can help our clients uncover white space opportunities, learn about emerging competitors, and even discover previously unknown market segments. Our world-class team of strategists and technologists uses proprietary data collection processes and consumer-centric algorithms to help our clients get a jump on new opportunities and rethink the way they engage their customers./
LRW is not in the business of "boring." We believe that good data is worthless if it can't get people thinking and inspired to act.
From infographics and videos, to microsites and reports, we present our data to help our clients easily understand the results, based on their unique styles and preferences. Our world-class graphic designers are an integral part of our project team, participating in the process from day one. They partner with project leads to create compelling visual materials that make our data "pop" for any audience, whether it's executives, investors, or general consumers.
Making the World a Better Place
LRW is a wicked smart collection of beautiful minds. And we're also a collection of beautiful hearts.
We believe that a brand's purpose is a large part of its total market strategy, and we have a holistic approach to activating that purpose. LRW applies its Behavioral Science techniques toward helping clients dig beneath the surface to paint a more complete picture of its social impact.
LRW also applies its skills and resources toward low-fee and pro-bono projects for organizations that make a positive social impact. We regularly work with nonprofits and charities to help them understand their donors to improve fundraising and accomplish their missions.
Humano. Humain. Umano. Mänsklig. Mensch.
No matter where you are or what language you speak, we are all HUMAN. And with every culture comes a unique set of values, traditions, and behaviors. The most popular name brands in Egypt may not ring a bell with anyone in India. People in Thailand don't use scales in the same way as people from Brazil.
LRW operates in over 100 countries and in 68 languages, so we can take the lead on research endeavors that cross borders and oceans. Our marketing scientists and data collection experts solve cross-cultural obstacles and implement the best protocols and practices to guarantee the highest quality data and insights.
Data Collection and Privacy
Gathering Trusted Insights
Real insights require real data. There's no room for error when it comes to research. Your methods must be perfect every single day.
LRW's team of in-house global data collectors plans and scans, verifies and validates every aspect of the research process in our client projects. We optimize surveys for the research audience, sample source, technology, and geography, then our team tightly manages all aspects of quality control. LRW is a member of ESOMAR and the Insights Association, and is rated number one in data quality year after year. We strictly adhere to the codes of conduct for these industry groups, and we vigorously protect the rights of both respondents and clients.
LRW's processes and practices align to the standards and requirements of the GDPR, and we are certified under the EU-U.S. and Swiss-U.S. Privacy Shield frameworks.
Implementing the Future of Research
There's no doubt that technology is changing your business. It's changing ours, too.
LRW embraces innovative technologies to deliver the smartest, freshest and most sophisticated insights. By working with top tech partners such as Medallia, Dapresy, Vox Pop Me, and Affectiva, our clients gain a distinct advantage over the competition. And we're helping our clients win by investing in new research methods that use machine learning, AI, virtual reality and augmented reality.